Sorry about the huge gap between comic con tales. I've been busy.

After the Simpsons panel, we farted around a little bit, then hit the Voice Actors panel to see my hero, Maurice La Marche. Before that started, we caught the end of the cartoonists panel, and saw three of the very well known comic cartoonists, Kyle Baker, someone else I can't remember, and Sergio Aragones. Amazing to see all of these guys draw at the same time. The Voice Actors panel was amazing. Got to see Maurice La Marche (responsible for 100's of voices, including "The Brain"). The 5 voice actors read an old Flash Gordon script, and I was in nerd heaven. I've followed voice actors since I was a kid, so it's great to see the people the voices from my favorite childhood cartoons.

Back to the main floor to wander and take pics. I'm sure most of you have seen the blonde in the pink top in my Flickr series. As soon as I whipped it out (the camera) she became a total camera whore. Posing, smiling, she even turned around and stuck her ass out. I had too much class and didn't take a pic up her skirt, though I probably could've gotten away with it with no trouble. Then Eric and I saw Buddy Christ wandering the floor, and I got a couple of pics from him, when the Elvis Stormtrooper came up and posed with him. The pics I got of 'em are among my favorites from the con. The pics that seem to be everyone's favorite are the ones of Slavegirl Leia. I enjoy 'em too. As of tonight, she's been viewed 105 times.

I saw the Broken Lizard guys, and managed to get close enough to get some poor pics. They were talking about my soon-to-be-favorite movie, Beerfest. Then it was to the Adult Swim Panel, where they talked about the new season, and the Moral Orel guys started having shit fits since no one claimed to like their show. After seeing their antics, I really dig that show now.

That night, we met the group from BKV.TV at Lime, a tequila bar in the Gaslamp District. Pics can be seen here. The oongoing joke between Brian K. Vaughan and I in the last year is how he "ruined" my shirt with his signature. Not having any clothes to ruin, I asked him to take the screws to my copy of Runaways #18...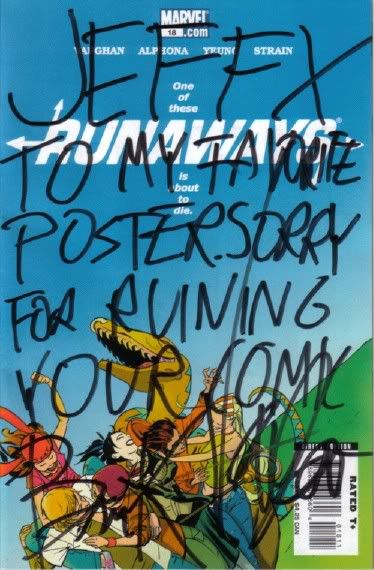 I laughed my ass off. And I have yet to frame it, but it will be framed.
The only really exciting thing about Sunday was buying my Utilikilt, which kicks ass. It's comfortable as shit. If only I wore it out more...
My Flickr account